Contact details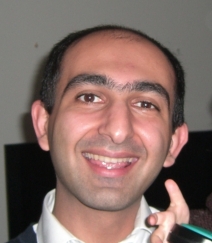 Email: lessan at gmail
Facebook: http://www.facebook.com/people/Lessan-Vaezi/700266185
Linkedin: http://www.linkedin.com/in/lessanvaezi
Twitter: http://twitter.com/lessan
Other blog: http://lessan.info/blog/
Background
Born and grew up in Cameroon (central/western Africa), I had a brief stint in India and then moved to Australia in 1995.
Beliefs
I find the Baha'i faith's world view to be modern and appropriate for the times we live in, so I have joined the Baha'is in their work of making the world a better place.
Profession
Currently working as a computer programmer.
I studied Computer Science at the University of Ballarat in Australia, having a great experience there and learning from some amazing individuals. Towards the end of my studies I worked for a few months at JustSys helping with their web application development in PHP. I was particularly interested in the application of the latest research in the field of Artificial Intelligence to real-world problems – they work with experts in a field to model the expert's reasoning when making decisions, using stories and flowcharts, and then use that model to create a web based Decision Support System. 
Then, I moved to Haifa, Israel to volunteer at the Baha'i World Centre, an organization that co-ordinates and supports the activities of Baha'is around the world. The reason for its being in Israel is purely historical, in that the founder of their faith was banished from his native home in Persia to Acre (a penal city of the Ottaman empire) in the late 1800s, which is situated in the north of the present state of Israel. He passed away there and therefore the administrative and spiritual centers of the religion are fixed around his shrine. 
My work at the Baha'i World Centre has evolved from technical support to office folk, through data entry, desktop publishing and correspondence distribution, web reports with a RAD tool, developing custom web applications, and currently researching enterprise document management systems.
I have been involved with the whole system development lifecycle from initial requirements gathering with business users to coding, testing and support for developing mainly web-based applications. The areas covered include scheduling of course material, point-of-sale, purchasing and warehousing, document tracking with a custom workflow engine, content management and portal home pages, and of course data entry and reporting.